Cochin Jewish Cuisine
Kosher cuisine: Lost food of the Jews
DECCAN CHRONICLE. | 
SOJU PHILIP
PublishedJul 3, 2016, 12:48 am IST
UpdatedJul 3, 2016, 8:27 am IST
Though governed by strict dietary laws, the cuisine of the Jews did absorb the flavour of the land they lived in.
My interest in Jewish food began when I did a college project on their cuisine. Instead of learning about it solely from books, I decided to get some first-hand experience. I knew there was a small community of Jews who still live in Kochi and decided to pay a visit to the Jew Town in Mattanchery.
As I strolled through the streets, I was welcomed by the sweet aroma of spices that wafted from the spice shops. The mansions of Jews stood testimony to a lost kingdom and a vanishing food culture. I entered the famous synagogue and sought help from the guide but he was unhelpful.
Picking up a pamphlet, I had a taste of the history of Cochin Jews, who had originally reached the spice rich Malabar coast some 2,000 years ago in the fleets of King Solomon, making them perhaps the oldest Jew settlement in India. They had settled down at the port town of Kodungalloor but moved to Kochi after being attacked by the local Muslims. Though they stuck to their religious customs, local food habits did have an influence on their cuisine.
I learnt that while most of them had emigrated to Israel, only five families were left behind. It was after much persuasion that one Jewish gentleman gave me an audience and let me talk to his Indian maid to get an idea about unique dishes. Jewish cuisine is shaped by the strict Jewish dietary law known as Kosher or Kashrut. However, Jewish festivals, shabbats and traditions are widely influenced by the geographic and culinary traditions of the countries where they are settled.
Kosher is the Hebrew word for "fit and proper" and it bans the mixing of meat and dairy products. Pork and fish that doesn't have fins are also considered inedible. Bread is staple to them and vegetables usually take a back seat. Coconut milk is used as an alternative to dairy products while making dishes.
(Soju is the Executive Chef, Club Mahindra Resorts, Poovar, Thiruvananthapuram)
Kubba (Minced chicken dumpling curry)
For the dough
Rice flour    200 gm
Oil    1 tbsp
Hot water   as    required
Salt    to taste
For filling
Minced chicken    150 gm
Minced onion    2 tbsp
Chopped coriander    1 tbsp
Vinegar    1 tsp
Salt      to taste
For gravy
Chopped onion    1 cup
Chopped tomato    ½ cup
Green chilli chopped    1 tsp
Ginger garlic paste    1 tbsp
Coriander powder    1 tsp
Chilli powder    1 tsp
Turmeric powder    1/4 tsp
Salt    to taste
Oil    2 tbsp
Chopped coriander    1 tbsp
Method
Mix the rice flour with salt, oil and enough hot water to make a stiff dough.
Cover and keep. Saute the minced chicken with a little turmeric powder and salt.
Add rest of the filling ingredients, mix well and keep aside. Roll the rice dough into a disc shape, put a spoonful of filling in the centre and tuck the edges using water to form round dumplings. Keep aside.
Heat oil in a pan. Saute onions and green chilli. Add ginger-garlic paste and sauté well.
Add all the spices, saute for a while and add a little water.
Add chopped tomatoes and cook till it gets mushy. Add 2 cups of water, salt and let it simmer.
Add the chicken dumplings and cook on a slow flame till they are done and gravy is thick.
Add chopped coriander and remove from fire.
Serve hot with rasaya pulao.
Chuttullimeen (Pan fried fish marinated with roasted shallots and spices)
Fish    450 gm
Shallots    50 gm
Green chillies    3-4
Ginger    1 piece
Garlic    1 pod
Curry leaf    2 sprigs
Coconut oil    3 tbsp
Lemon juice    1 tbsp
Salt  to taste
Method
Clean the fish and cut it into a big slice. Wash nicely and keep aside.
Dry roast the sliced shallots, curry leaves, green chilli, ginger and garlic. Coarsely grind it with lemon juice and salt. Take the fish and place it on a table.
Marinate fish with this paste and apply remaining paste on top sides and keep for 30 minutes.
Heat oil in a pan, grill the fish, turn it around, just sear and keep one slice of the fish on top of the other, keeping the masala inside. Pan fry both sides and remove from fire. Serve hot with grilled veggies.
Pastel (Deep fried pastry with filling)
For the dough
Flour    2 cups
Egg     1
Oil    1 tbsp
Salt    to taste
Water     as required
For filling
Cooked chicken breast, shredded    150 gm
Onion, chopped    100 gm
Potato, boiled    2
Chopped chillies    1 tbsp
Turmeric powder ¼  tsp
Oil        2 tbsp
Black  pepper powder    ½ tsp
Salt  to taste
Egg        1
Chopped coriander 2 tbsp
Oil for deep frying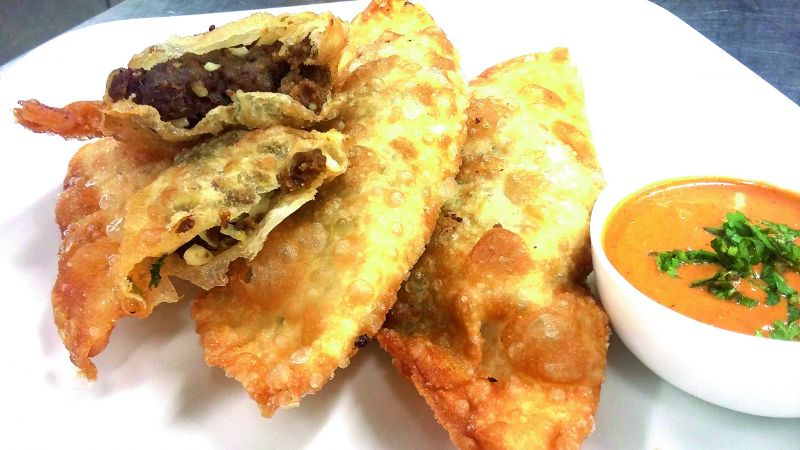 Pastel
Method
Mix the flour with oil, beaten egg, salt and enough warm water to make stiff dough. Knead well and keep covered.
Heat oil in a kadai, saute chillies and onions. Add turmeric powder and black pepper powder. Add the diced boiled potato and the shredded chicken. Saute well. Push everything to one side and pour the beaten egg and scramble it.
Mix everything together. Add salt and chopped coriander and remove from fire. Allow the mix to cool.
Divide the dough into small balls. Roll into small roundels. Put a heap of filling in the middle, fold it into half and smoothen the edges with water.
Heat oil in a kadai and deep fry the pastries till golden brown.
Remove from oil and put on absorbent paper. Serve hot.