Rajasthani
Rajasthan- is the land of fairs and festivals, a hundred holidays or thousand celeberations elsewhere cannot match the year-around excitement of these desert celebrations. Food cannot be apart from these ceremonies, certaily, results into an exotic cuisine.Many a fine kitchens flourishes in the land of princes. The love of shikar has made game a particular favourite.The non vegetarian cooking gains popuarity because of these royal kitchens.the kebabs and gravies wre exotic. At the other end the vegetarian cuisine of the Maheshwaris of Marvar or jodhpur is also famous.the sparse rainfall allows less vegetation-and they made most of the limited resource-like sundrying vegetabes.Lentils in their myriad forms are the principal source of protiens.Another  feature of the marvari cooking is the vast use of mango powder(amchoor)- a suitable substitute for tomatoes, and asafoetida, used to enhance the taste in the absence of garlic and onions.
1. LAL   MAAS
600g lamb cubed,     15 whole red chilli,      75 gm ghee,      30 gm garlic chopped,    100gm onion slice,   3 black and green cardomom each,     1/2 tsp cumin seeds broiled,         120 gm yogurt,      10 gm coriander powder,      1/4 tsp turmeric pow,       salt,       10 gm chopped coriander
Method-    Clean and wash lamb. slit and deseed green chilli.whisk yogurt in a bowl, add red chillies, cumin, coriander powder, turmeric and salt,mix well and keep aside for 10 min.
                Heat ghee in a kadai,saute garlic,saute onions with cardomoms till golden brown,then add the meat, bhunno for 5 min,add the yogurt mixture and cook until the liquid has evaporated, add appr;2 cup water,bring to boil,cover and simmer,stirring ocassionally,until the meat is tender.sprinkle chopped coriander and serve with phulka.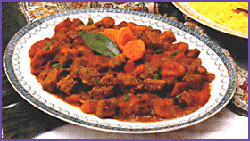 2.SAFED   MAAS
600gm lamb cubed,    12o gm yogurt,     salt,        60 gm ghee,       1/2 tsp white pepper powder,    10 gm ginger jouliennes,      30 gm almonds,   15 gm coconut,      2 green  chilli,    1/4 tsp white cardomom pow,       60 ml cream,     1/2 tbsp lemon juice,     1/2 tbsp rose water
Method-   Clean the lamb and boil with salt for 5 min, drain and wash the meat, .blanch almonds,cool and remove the skin,deseed chilli and make a paste out of this. whisk yogurt with white pepper and keep aside.         Heat ghee in a handi, add the blanched meat,the spiced yogurt,ginger, salt and 2 cups water.cover and simmer till the lamb is tender,stirring ocassionally.add the paste and stir for 2 min,sprinkle cardomom powder, add cream, lemon juice and rosewater, stir ,adjust seasoning,seal the handi and put it on  dum in a prheated owen for 15 min.serve hot with phulkas.
3.AMRUD    KI    SUBZI
1kg  guava semi ripe,    125 gm ghee,    5 gm cumin seeds,    a pinch asafoitida,    25gm coriander pow,    3 gm red chilli pow,      1 tsp turmeric,     salt,   120 gm tomatoes,     1 cup yogurt,     1/2 tsp garam masala pow,    2 tsp mango powder.,   2 tsp fennel pow,     75gm sugar,    2 tbsp lemon juice
Method-   Peel and cut  the guavas into quarters, chop the tomatoes.heat ghee in a handi,crackle cumin,add asafoetida,stir,add coriander pow, red chilli, turmeric and salt,stir.then add tomatoes and beaten yogurt, bhunno until the fat leaves the masala, add 2 cup water and bring to boil.now add guavas,boil and reduce the heat cover and cook, stirring occasionally until tender. sprinkle garam masala, mango pow, and fennel pow,stir and add sugar, cook for a hile,adjust seasoning and sprinkle lemon  juice and stir.serve with poori.